The Pitchfork Trading System strategy is named after its developer, Andrew Pitchfork. It belongs to trend long-term systems with relatively high efficiency. The main task of a trader is not so much to get confirmation of the entry point, but to find the best moment to close the transaction.
Pitchfork Trading System – signals and examples of practical application
Input data:
Trading assets – any. Initially, the strategy was developed for trading in securities, where protracted trends are often found. But over time, its algorithm was adapted for currency pairs. There are examples of successful trading in cryptocurrencies, with the exception of sections of the fundamental flat, similar to the one observed in the second half of 2022.
Timeframe – from H1 and above.
Indicators – Pitchfork, stochastic modification, moving average modification.
The Pitchfork Trading System strategy template, which you can download from this link, was developed for MT4. Some of the indicator lines are auxiliary, but you do not need to remove them – this may disrupt the operation of the indicators.
The signal is formed in the direction of the lines of the Pitchfork indicator. If their direction is horizontal, a flat is formed in the market. The greater the angle of inclination up or down, the better. 45° is a good signal to open a trade. The second signal is the appearance of an arrow in the direction of the trend. It may appear after the formation of the Pitchfork angle. You can also focus on the stochastic – the intersection of its lines. But this signal is often either leading or lagging.
It is most convenient to close a deal by trailing. When the price moved in the direction of the forecast, set the trailing distance a little further than the depth of the local correction on previous trends.
A few tips. If the signals coincided simultaneously on the intervals M30, H1 and H4, you have exactly the beginning of a trend. Since signals rarely appear, run the template on 10 or more assets at the same time.
Example.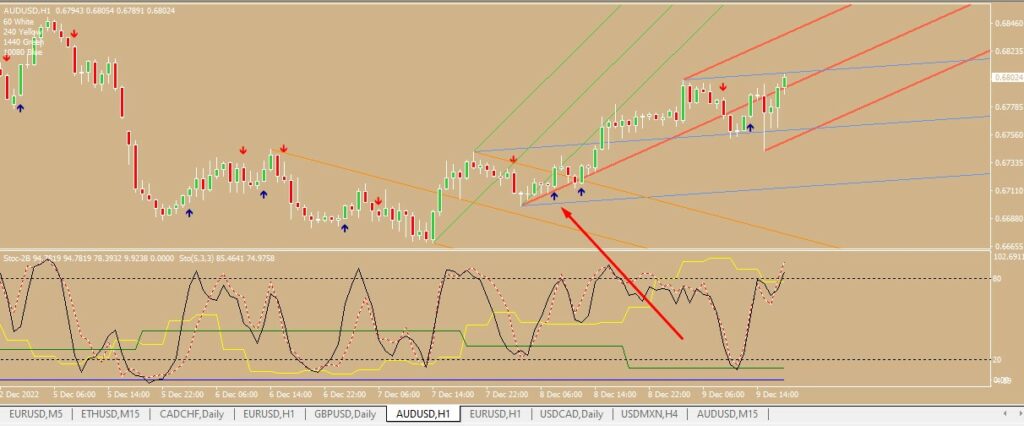 Two main conditions are met here: the red lines of the indicator are directed at an angle of 45 ° upwards, a blue arrow appears (green changed to blue for visual convenience) showing the entry point. The intersection of the stochastic lines occurred a few candles earlier – a confirming signal. The presence of the stochastic in the overbought or oversold zones is ignored in this strategy.
Conclusion. Pitchfork Trading System is another one of hundreds of possible ways to make money in trending markets. There are no ideal strategies, so we recommend testing it on a demo account. And maybe this trading system will be the most suitable for you.