Each developer of a cryptocurrency platform is interested in attracting investors. Most of the tokens are distributed during the pre-sale and at the time of the launch of a startup, but investors still need to be convinced that the coins are interesting. Cryptocurrency airdrop is one of the marketing policy models that involves the free distribution of tokens or its coins among investors. To participate in the distribution, the user needs to fulfill a few simple conditions. For example, subscribe to a newsletter on social networks or pre-purchase some of the tokens in order to receive a free additional "premium".
How can an investor make money on an airdrop of cryptocurrencies
The cryptocurrency airdrop model gained popularity in 2017 at the peak of ICO popularity. As startups popped up one after another, developers had to compete with each other by developing new methods to attract investors. At that time, at a relatively low cost, airdrop managed to interest users of social networks and instant messengers using viral mailings. Today, a similar marketing policy is used in DeFi projects and in NFTs, where authors distribute part of the tokens from the collection for free on a competitive basis.
You can find out about the airdrop on the developer's website. But in order to increase the reach of the audience, developers can resort to the support of large partners. For example, Coinbase has an Earn section where small introductory videos about a particular cryptocurrency are posted. The user views them, passes the test and earns coins for the correct answers. Also, information about past and planned placements is available on CoinMarketCap.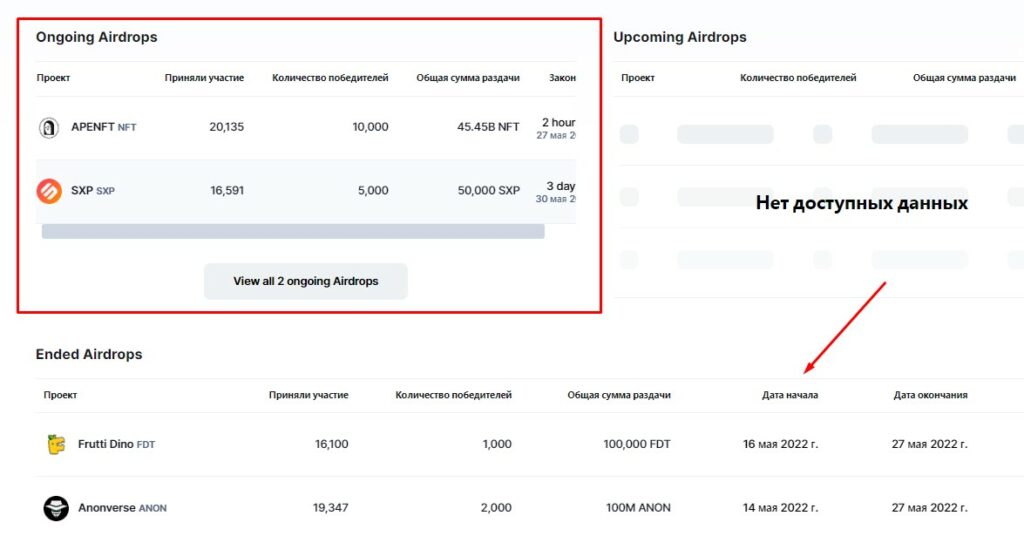 The distribution of coins for subscribing, mailing or attracting friends to the community is most often carried out by new startups, thereby trying to attract attention. Existing startups most often airdrop cryptocurrencies among holders to increase loyalty.
Types of cryptocurrency airdrops:
Classical. Reward for posts on social networks, messages in chats, registration on the site, etc. It used to be popular, but now it is rare, since the time and organizational costs for marketing and monitoring the implementation are not worth the result.
Airdrop for users. Tokens are distributed among users who use individual blockchain applications. Developers support their community in this way.
Airdrop for altcoin/token holders. For example, when launching a startup on the Ethereum blockchain, developers distribute their tokens among ETH owners.
To receive tokens, the participant must have a non-custodial wallet – a wallet that only the user has access to. An exchange account, the keys of which the exchange also has, is most often not suitable.
The most difficult thing about making money on an airdrop is to find out about it in time. Some startups are reporting open token distributions. But in most cases, these are little-known platforms with a low price. Large platforms prefer to airdrop unexpectedly to encourage their users and prevent tokens from getting to speculators, who will immediately throw coins off after receiving them.
Among the most famous airdrops is the placement of XLM (Stellar) tokens for 125 million USD within a few months. In September 2020, the Uniswap DEX exchange unexpectedly credited each user using UNI with 400 of its coins, which were then worth about 7 USD.
Despite the fact that almost no investment is required from the investor, airdrops have risks. There are examples when the coin distribution model is used by scammers – scammers who collect personal data. Therefore, never give the password and seed phrase from the wallet to third parties, check the startup in which you are going to participate. Be careful if the developers promise fast and big profits. Airdrops are free: if you are asked to transfer tokens and receive an even larger amount in return, these are scammers.
There are cases when a user received from scammers a fictitious token, "disguised" as a well-known coin. The fake was only detected when the user tried to sell the token. The transaction did not go through, and with an error message, the user received an invitation to go to a phishing site with an offer to install a wallet. After that, the scammers got access to the user's original wallet.
Conclusion. An airdrop of cryptocurrencies is a free distribution of tokens, which brings additional income to the investor. The task of the investor is to find out in time about the planned distribution of coins. Participation in the distribution can bring income from 100-1000 USD. Whether it's worth the time spent looking for them is up to you.